Media and Fabrication
Capabilities and Advantages
Fiber Bond is a vertically-integrated manufacturer of high-quality media and fabricated items. In addition to HVAC and paint/finishing filtration, we produce products for a broad array of specialty commercial and industrial applications.
AIR LAID WEB
OUR AIR LAID WEB ORIENTATION PROVIDES SUPERIOR LOFT, UNIFORMITY, AIR/LIQUID PERMEABILITY AND STRENGTH AT LOWER BASIS WEIGHTS.
Media basis weights from 1.5 to 40 oz. per sq. yd.
Media thicknesses from 0.1 to 3.0 inches.
Fiber deniers from 0.9 to 200 denier.
Media widths up to 90" trimmed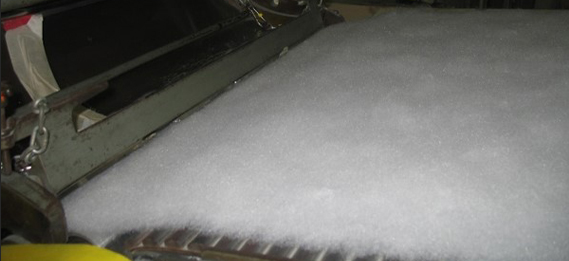 NEEDLING
OUR MEDIA WEBS ARE NEEDLED TO
Interlock fibers to increase media strength
Control media thickness.
Enhance media surface aesthetics
Create dual-density structures
Engineered Binder Chemistries
DELIVER VALUE-ADDED PROPERTIES TO MEDIA WEBS.
Spor-Ax® antimicrobial mold and mildew prevention
RF & thermal heat-sealing properties

Fiber Bond specializes in FMVSS 302 rated, dielectrically/heat sealable media used in seating and upholstery applications for transportation and office environments

U/V stabilization
Thermal and flame resistance
Unique tackifiers and adhesives for targeted particle capture.
Hydrophobic (repel water) and hydrophilic (absorb water) properties
Abrasive scrubber particle application
Additional Value
Create composite structures via lamination
Ability to print on media
Slit and perf-to-size cutting
Vacuum packing for freight savings
Cut pads/die-cutting